The cybersecurity industry is looking to fill 3.5 million jobs worldwide by bridging the gender gap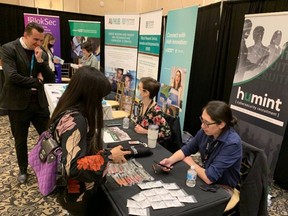 Article content
With 25,000 cybersecurity jobs staying vacant in Canada, this growing market is hungry to shore up its recruitments by closing the gender gap, a female keynote speaker told an audience at the Canadian Women in Cybersecurity's conference in Vaughan on May 4.
Article content
Globally, there are 3.5 million unfilled jobs in cybersecurity, Gina Cody, first woman to receive her PhD designation in building engineering at Concordia University, added.
"This number for sure will go up," said Cody, who made a historic $15 million gift to Concordia University's faculty of engineering and computer science in 2018, said.
In North America, women fill only about 21 per cent of cybersecurity jobs and even fewer of them hold senior positions in the industry, Cody added.
"The math here is straightforward," Cody said. "If they want to close the employment gap in cybersecurity, we need to close the gender gap."
Increased spending
Governments around the world are expected to increase their spending on cybersecurity, and Canada is among them.
Article content
Canada's minister of innovation, science and industry, François-Philippe Champagne, announced in February that the National Cybersecurity Consortium (NCC) will receive up to $80 million to lead the Cyber Security Innovation Network (CSIN).
NCC is a not-for-profit consortium, founded in 2020 by five Canadian universities with the goal of bringing together business and government research into cybersecurity. The consortium collaborates with more than 140 researchers from 35 post-secondary institutions, 16 large companies, 30 small and medium-sized firms, 26 not-for-profit organizations and eight governments and governmental organizations across Canada.
More from MoneyWise
Article content
This spending on cybersecurity by the government is a boon for the economy too. According to Statistics Canada, the Canadian cybersecurity industry contributed over $2.3 billion in GDP and 22,500 jobs to the Canadian economy in 2018 alone.
But that's a drop in the bucket compared to what will be coming globally. Research firm Cybersecurity Ventures forecast in a recent report that governments will spend around $1.75 trillion on cybersecurity between 2021 and 2025.
Cybersecurity jobs expected to grow even more
The number of unfilled jobs is expected to grow amid alarming projections that cybercrime is on the rise worldwide, and the pandemic only accelerated the trend, as more companies pivoted online.
In 2021, the Sophos State of Ransomware Report showed that 39 per cent of Canadian businesses were victims of ransomware the prior year, and 65 per cent of the businesses expect a future ransomware attack. Ransomware is a type of malware that threatens to publish the victim's personal data or perpetually block access to it unless a ransom is paid.
Article content
Citing a figure from Cybersecurity Ventures' Official Cybercrime Report, Cody said in 2021 alone, cybercrime is estimated to have caused more than US$6 trillion in damage, up from US$3 trillion in 2015.
"If cybercrime were measured as a country, it would [have] the third largest GDP in the world after the United States and China," she added. "The world is beginning to realize just how important cybersecurity really is."
All skill sets needed
In one panel discussing the "absolute joy of being a woman in cybersecurity," women panelists sought to dispel some myths surrounding the industry. Those include having to be a math whiz.
"If you have more soft skills, like myself in communications and policy, there's an area for you," said Julia Le, a cybersecurity education and awareness manager at the government of Ontario.
Article content
"If you want to get into the ethical hacking team and break into systems really, ethically, and make sure that our software and programs are secure enough, well, yes, you will need a computer science background," said Le, who has a master's degree in public policy.
One of the panelists, Eman Hammad, cyber-physical security and resilience at PwC, told the audience that she sees the industry as "mosaic," with people able to bring all their diverse experiences into the mix.
"Especially in cybersecurity, you can bring all [of] yourself, you can bring yourself as a technology expert, you can bring yourself as a people person, you are working with clients and trying to understand their challenges. You can bring yourself, all your skills," Hammad said.
Most importantly, cybersecurity is not unlike police work; it's about protecting the public.
"You wake up every morning and say that today is the day I can make a difference, even if it's small," Hammad said.
This article provides information only and should not be construed as advice. It is provided without warranty of any kind.