The electric mobility paradigm needs to be recognized for what it has been: a technical and fiscal flop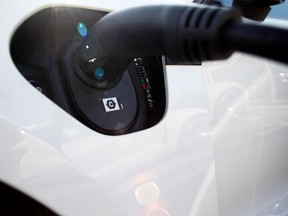 Article content
When babies are born prematurely, suffer health problems or endure a difficult birth they are taken to a hospital's neonatal intensive-care unit. There they get around-the-clock attention from a team of experts.
Article content
Governments sometimes treat the birth and infancy of new technologies as though they also require special care. It is not a stretch to characterize the electric vehicle as still being in its own version of policy intensive care. Its long stay there — at least 15 years — and its utter failure to launch are finally beginning to cause people to ask: precisely why is the electric car taking so long in its incubator, being kept alive by seemingly endless government subsidies, mandates and other life-sustaining measures?
For better or worse, Canadian governments seem committed to a low-carbon future. A big part of their effort is subsidies to both buyers and manufacturers of electric vehicles, as well as increasingly stringent regulations both discouraging and soon even prohibiting the sale of cars powered by internal combustion.
Article content
The Achilles' heel of vehicle electrification is the lithium-ion battery, an inefficient, costly and vulnerable energy-storage system plagued by issues of weight, energy density, low performance in cold weather and grid adequacy — and now also by skyrocketing prices of the key minerals it requires: lithium, cobalt and nickel.
The lithium-ion model was a well-meaning initiative driven largely by unfocused enthusiasm rather than hard science and fiscal prudence. But experience is showing that it's simply not an energy-storage technology suitable for the mobility sector. One would have hoped that after prolonged intensive care, the lithium battery would now be strong and healthy enough for its real-world debut. But it is not, as the financial performance of several EV manufacturers bears out. Tesla closed last week down 41.9 per cent year-to-date, Rivian down 72.4 per cent, NIO down 45.8 per cent, and so on.
Article content
The electric mobility paradigm needs to be recognized for what it has been: a technical and fiscal flop. It should be shelved before it precipitates a serious meltdown of the automotive industry. Anemic consumer uptake is the most compelling evidence of the absence of market demand. Despite the constant torrent of upbeat prognostications, EV sales are an anemic 2.5 per cent of total global sales, according to a recent McKinsey study.
Voices that are less invested in the success of EV batteries have begun to ask hard questions about the entire enterprise. Challenges of cost, range, performance, stability, ease of re-charging and so on have long been well-documented. But questions now focus on batteries' insatiable appetite for rare earths and other minerals and related, mining-induced environmental damage.
Article content
Terence Corcoran: Drink not to the birth of climate panic

Jack Mintz: Blaming inflation on big corporations is 'science denial'

Candace MacGibbon: Canadians need to stop demonizing mining
Mega-tons of earth are moved to extract these materials, mainly with diesel-burning rigs but also in some places by children armed with chisels and hammers toiling under oppressive conditions. Nor should the carbon footprint of mining, transport and processing these raw materials be ignored in the emissions equation.
The fundamental question is whether promoting the commercialization of a single technology is a proper role for governments. Governments have a long-established role in funding broadly oriented research and development. There are also respectable arguments that they should provide some support for proof-of-concept and initial market penetration of new technologies. But when they seek to choose the "right" technologies and to impose market outcomes on a grand scale they set themselves and their societies up for failure.
Article content
Our governments' current approach offers, not a general road map, but rather a collection of micro interventions that runs counter to clear consumer preferences. In these difficult times, with national treasuries under severe stress and inflation raging, policymakers need to revisit their expensive and single-minded focus on vehicle electrification.
We are still in the early stages of rolling out this profound miscalculation. That means there is still time to recalibrate and shift away from the false hope of electric mobility foisted on us by government mandates. This is not to say we don't need effective, efficient, economical and readily deployable technologies to build a sustainable low-carbon future for the ground-mobility sector. In particular, we need to look at alternate non-electric powertrain technologies (including the kind my company is currently developing for the bus market: a hybrid pneumatic powertrain, in which a traditional engine, powered by renewable natural gas or hydrogen, compresses air to power a pneumatic motor).
Without a strong flow of new energy-storage and powertrain innovations, the automotive industry will continue to be stuck in a costly, complex and unsustainable lithium-ion model that is nosediving towards its functional and fiscal end.
Michael Nitefor is founder and president of Air Lab, Inc.